ECT Registration step by step guide
When you log in to the DfE portal follow each step to complete the registration
If you are unable to log in contact continuing-professional-development@digital.education.gov.uk.
Once logged in you will see 6 steps to follow. Scroll down for help with each step.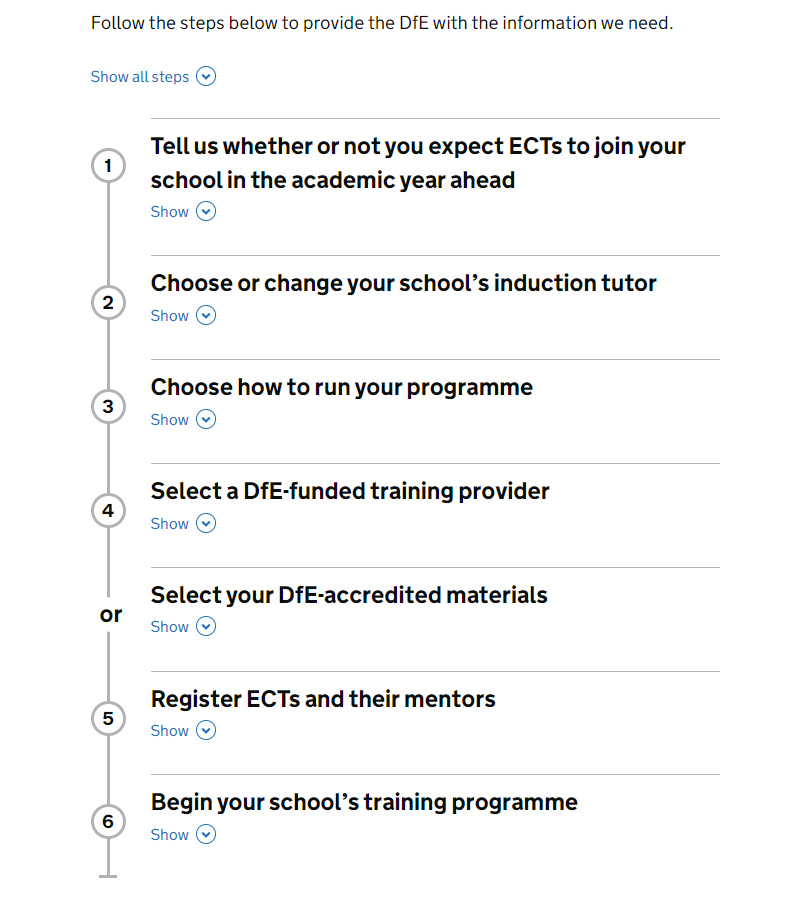 Step 1 - Tell us whether or not you expect ECTs to join your school in the academic year ahead
If you do not expect ECTs this academic year, you do not need to complete any more steps. Your school will not receive any more messages about ECF-based training until the next academic year.
If you do expect ECTs, you need to complete the next steps as soon as possible.
If things change at any point log into the portal to make changes.
Step 2 - Choose or change your school's Induction Tutor (Whole school Induction Coordinator)
The DfE may have emailed your Induction tutor directly to register for the portal. If not you can request a link here https://manage-training-for-early-career-teachers.education.gov.uk/nominations/resend-email
If your Induction tutor is changing please complete this step as soon as you know who is taking over.
Step 3 - Choose how to run your programme
This is a very important step. Here you will inform the DfE and the Hub that you will be accessing a fully funded ECF training programme. All state funded schools are eligible to receive this.
You will choose option 1 'Use a DfE funded training provider'
Options 2 and 3 involve you delivering your own ECF training, either using accredited materials or your own model. Both of these options do not attract funding to cover reduced timetables and mentor release time. They both also require external fidelity checks from your appointed Appropriate Body (additional charges will apply) If you choose option 3 you do not need to complete steps 4 and 5.
Step 4 - Select a DfE funded training provider
Schools need to be partnered with one of the 6 lead providers. If you have chosen option 1 and intend to work with the C& K Hub as the delivery partner for your ECF training, Ambition Institute will be your lead provider. We will broker a partnership with them on your behalf. You will receive an email from Ambition Institute asking you to accept the partnership.
Please inform the Hub of any reason you might not working with Ambition Institute as part of the fully funded programme.
If you chose option 2 at Step 3 you will need to contact your chosen lead provider yourself.
Step 5 - Register ECTs and their Mentors
For each ECT and Mentor you register you will be asked to provide
Full name as it appears in the TRA records
Email address (school or personal)
Teacher Reference number (TRN)
Date of Birth
Step 6 - Begin your schools training programme
If you are using a DfE funded training provider (Option 1 from Step 3) your delivery partner will contact you directly about what to do next.
If you chose option 2 the DfE will email your ECTs and mentors a link to your chosen materials
If you chose option 3 you need to plan and create your materials yourself.
Should you require any further support please contact the hub directly
01484 868762
cktsh@sharemat.co.uk