FAQs
Do I need work experience?
Relevant work experience is not an essential requirement, but we strongly recommend it to know that this is the career for you. Get in touch if you need support with this
Do you offer part time?
Yes, we offer 4 options:
As part of the programme, all of your Core Training will take place in Year 1 for all part-time trainees. This means you are expected to attend all Thursday training in Year 1. This will also mean all written elements of the PGCE (in partnership with University of Birmingham) are included in Year 1. The school experience element of the PGCE will take place across the whole of your part-time programme, therefore you will gain your PGCE at the end of Year 2.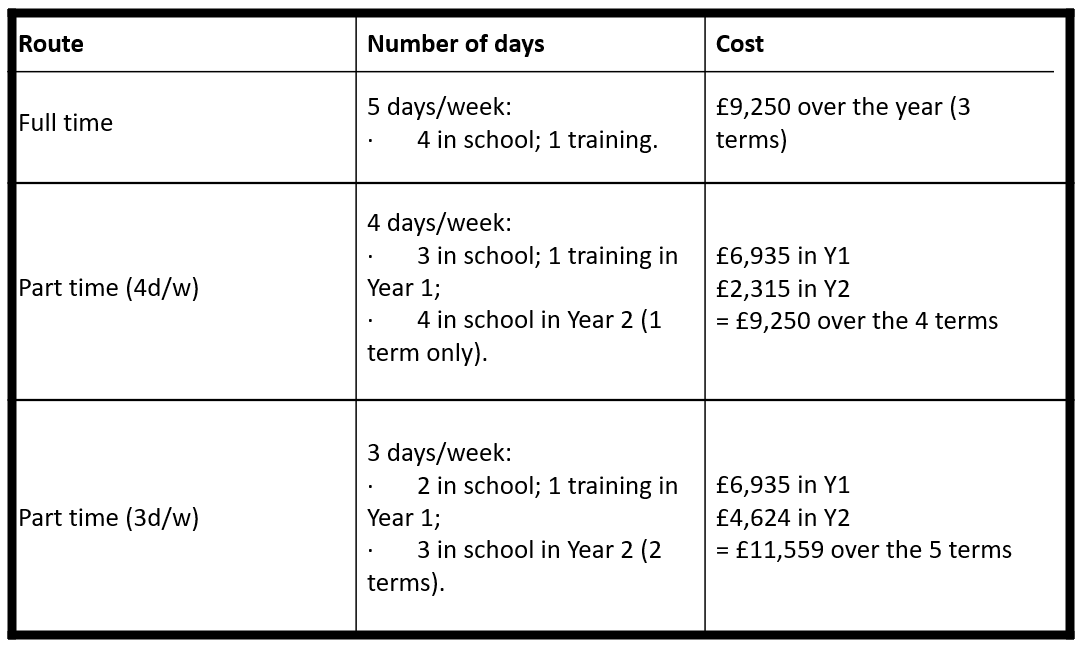 What is the interview process?
Do you provide support for the application process?
How is DBS arranged?
Your DBS will be part of your conditional offer as well as medical clearance. A conditional offer is a list of requirements you must fulfil, if successful onto the course, prior to your start date.
We will organise a DBS date (late May/early June) in which you must attend an arranged appointment and bring the following documents:
Original documents are required.
We require 2 proofs of ID to run your DBS check, we advise you provide your passport and driving licence (and a UK Birth Certificate if you have this). If you need to arrange for a replacement Passport or Driving Licence, please do this as soon as possible.
Passport
Driving Licence And/Or
Birth Certificate
Proof of National Insurance (NI Card, P45 or P60)
Please note, the names on each document must match. For example, if you have a middle name on one document, this must be present on all documents. If you have changed your name, please provide proof.
1 Proof of Address:
Bank Statement
Utility Bill
HMRC/Local Government Letter
Any letters provided must be dated within 3 months and must include your full name (inclusive of middle name(s)/initial). We cannot accept online statements that have been printed at home. We advise you to visit your local bank branch to request a printed and stamped statement, or request for a bank statement to be posted to you.
Overseas Police Check – If you have been outside of the UK for more than 3 months, at any point in the past 5 years, we will require you to provide overseas police check for the respective country. If you do not have one of these, please begin the process of obtaining this as soon as possible. Further information can be found on the .GOV Website.