NPQ
Applications for the Specialist and Leadership NPQs commencing February 2023 are now open.
The DfE 'Targeted Support Fund' gives a grant payment of £200 per participant to state-funded schools and state-funded 16 to 19 educational settings with 1-600 pupils for every teacher or leader they employ who undertakes an NPQ.
(Non-school based early years settings (group-based providers and childminders), virtual schools, hospital schools not included in other categories of eligible organisations, and young offender institutions are not eligible for the grant.)
Please see the 'How to register for your NPQ' guide below to secure your NPQ place now.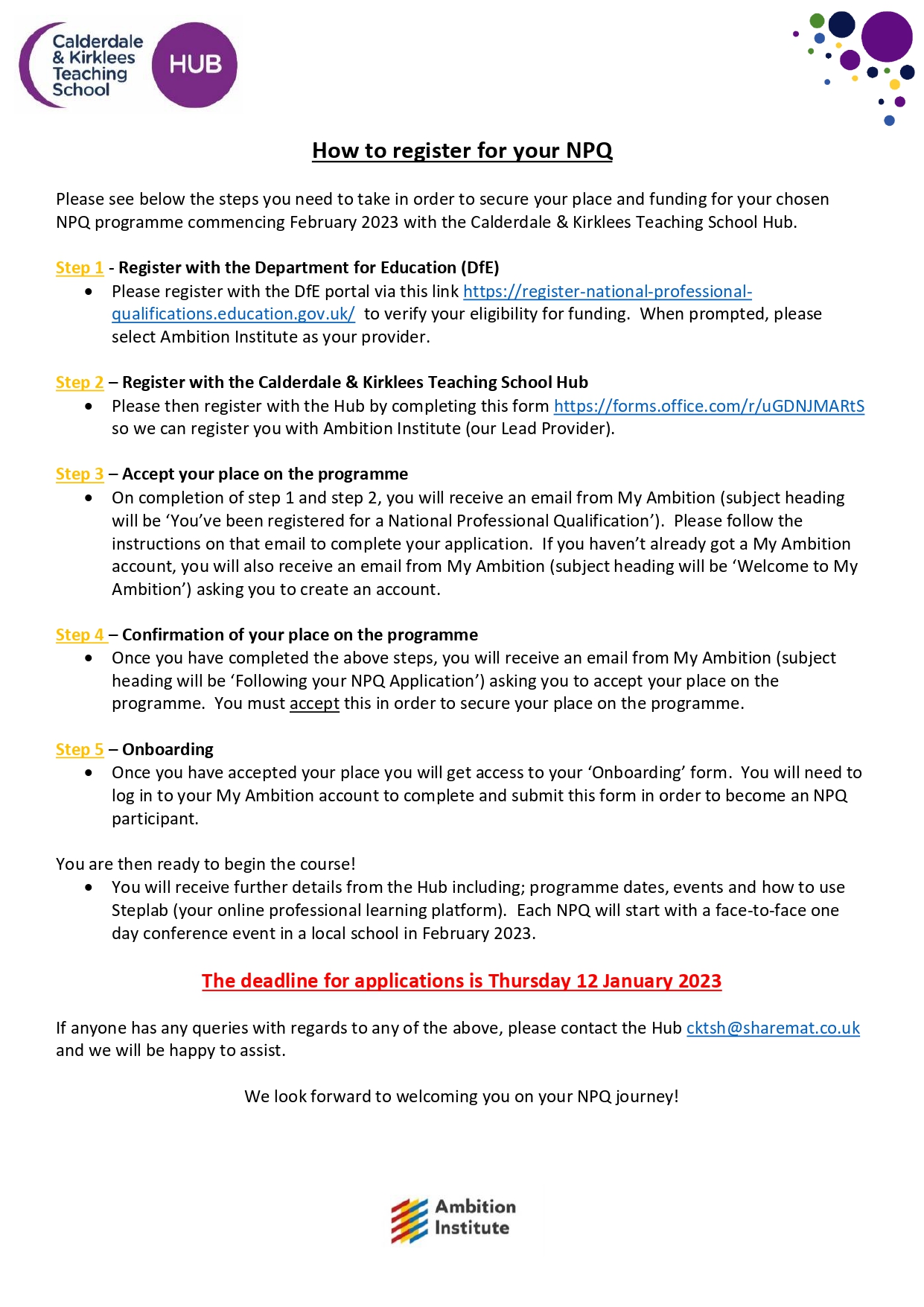 National Professional Qualifications (NPQs) are the most widely recognised professional development qualifications in the education sector for current and aspiring leaders.
Accredited by the Department for Education (DfE), NPQs equip teachers with the expertise to lead sustainable improvement across their schools.
Specialist NPQs
NPQ in Leading Teaching (NPQLT)
NPQ in Leading Behaviour and Culture (NPQLBC)
NPQ in Leading Teacher Development (NPQLTD)
NPQ in Leading Literacy (NPQLL)
These NPQs provide continued professional development for teachers who want to make their classroom teaching the best it can be, whether or not they move into school leadership.
Leadership NPQs
NPQ in Senior Leadership (NPQSL)
NPQ in Headship (NPQH)
NPQ in Early Years Leadership (NPQEYL)
NPQ in Executive Leadership (NPQEL) - (Please note to apply for this NPQ please email the hub directly at cktsh@sharemat.co.uk)
These NPQs cater to teachers in leadership, or aspiring towards leadership.
Further information on each of the NPQs can be found in the corresponding tab.